Submitted by: Celina Loyer – Cree Métis
Materials: Traditionally finger woven acrylic yarn
Our fur trade ancestors used the sash as a tool: a belt, a rope, a tumpline. With this mask, the sash is transformed into our tool of survival during the pandemic. Based on the ancient Assomption ceinture flechée pattern and colours, the unique shape of this mask springs from creativity and necessity. Completely woven by hand, sashes usually remain the same width. Shaping the sash to fit the face requires ingenuity and perseverance.
The sash is not perfect – changes in thread tension create imperfections in the weave. As we progress through the stages of the pandemic, tension affects people too, revealing flaws and inspiring adaptation of old ways to a new normal.
Our people have faced pandemic before: smallpox, influenza, TB. Yet we persevere. The means to survival can feel heavy or stifling, yet we will continue to do what is necessary to ensure our culture thrives.
Just breathe.
Images: Veridian Photography
Model: Jessie Loyer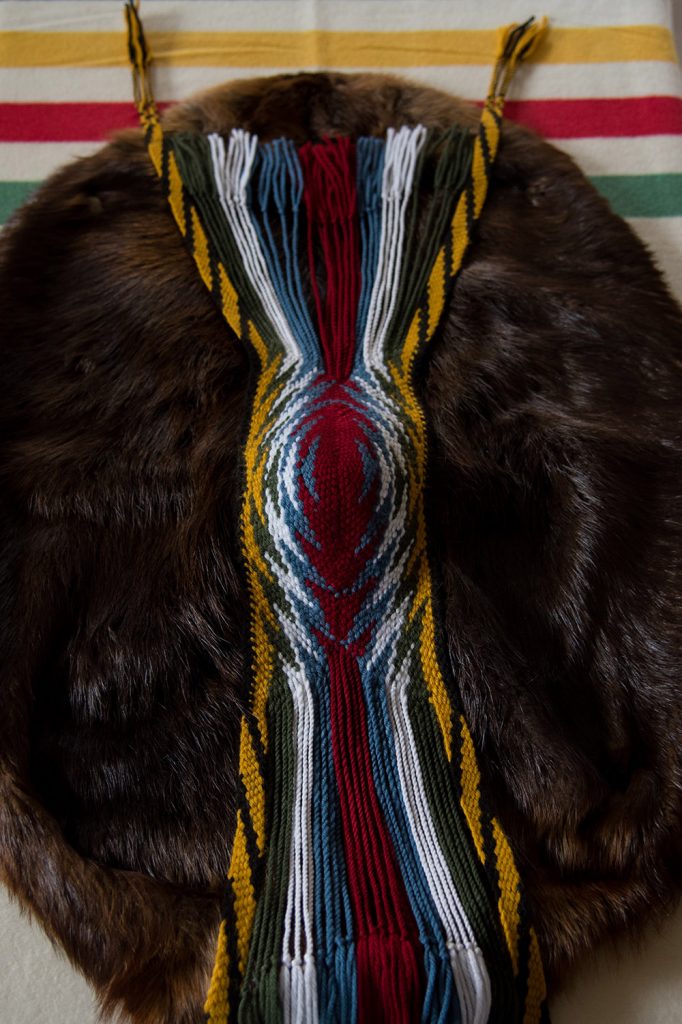 This mask was created for the Breathe community Facebook group – A collection of traditionally crafted masks demonstrating resiliency through 21st century pandemic.